Psiphon
249
Unblock Websites Anywhere in the World
Do you have issues when accessing some websites? Are you unable to connect to your favorite movie websites when you travel abroad? If yes, then you should try this app to unblock websites. Psiphon is a useful app that secures your internet traffic and also allows you to view websites that are blocked or restricted in your country. It lets you surf the internet with freedom and also ensures that no one can see your real IP address. Some countries like China don't want their citizens to enjoy internet freedom. This is why they have blocked popular websites like Facebook and YouTube in their country. If you are traveling to China then you should prepare yourself for this and have this VPN app installed on your phone.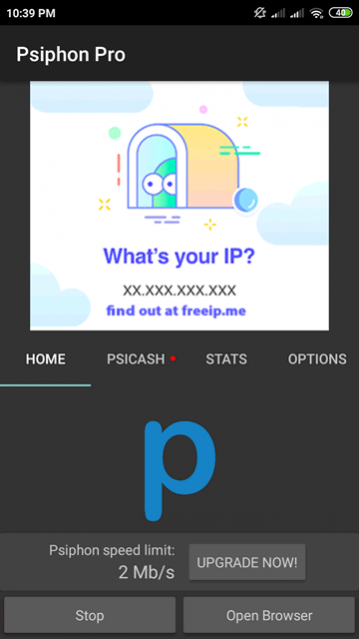 Psiphon has an intuitive user interface that goes along well with its simple layout and design. You won't find any issues in navigating the app or understanding how it works. However, there is one thing you need to keep in mind. This VPN app isn't available in all countries. You will have to download the pro version of Psiphon if this version is restricted in your country. Don't worry, the pro version is free to download and use. You just won't get the high connectivity speeds that premium users enjoy. With this VPN app, you can unblock websites that have been restricted in your country for some or the other reason. Even the geo-restricted apps or websites that can only be accessed within specific regions would also become accessible to you when using this app.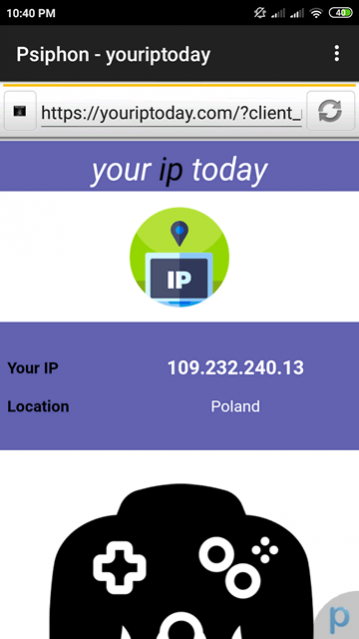 This VPN app can help mask your IP address. With your IP address no longer visible, the websites you want to access can't trace your location. To fool the government agencies monitoring your web traffic, Psiphon will provide a proxy IP address to you of a different country. This IP address will belong to a server located in that city. Since the websites you are trying to access are not blocked in that city or country, you won't have any issues in opening them. The government agencies won't be able to stop you either as they won't know who is accessing the blocked websites. Also, tunneling your web traffic through this VPN app will also keep you safe from hackers.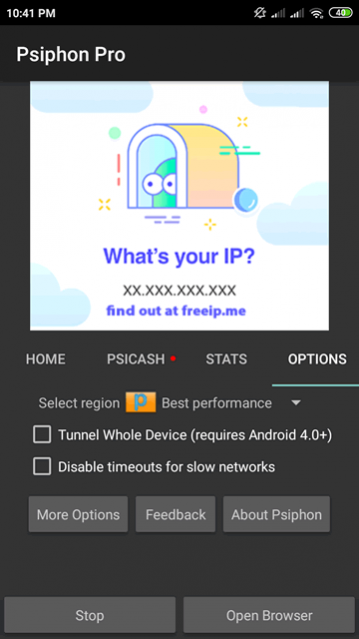 Psiphon offers two options when it comes to unblocking websites. You can either use the built-in web browser that the app provides you or use your own apps for accessing restricted apps. If you choose your apps, you will have to enable the tunneling to be performed for your entire device. However, if you want to access blocked websites via the in-built browser, you would just have to tunnel the web traffic of the browser. Although the pro version of Psiphon only provides high-speed connectivity to its premium users, its connection speed for regular users is also quite fast. You won't find any lag in connecting to your favorite websites in any country around the world while using this VPN app.
Features:
Intuitive user interface
Simple layout and design
Easy to use
Unblocks websites blocked by the government
Allows access to geo-restricted websites
Fast connectivity to the internet
Creates a tunnel for the web traffic to pass
Masks your original IP address
Provides a proxy IP address to you
Let's you browse the internet safely
Built-in web browser for accessing blocked websites
Option available to tunnel the web traffic for all apps
Conclusion:
Psiphon is an app that is aimed at people who live in countries where the internet is restricted and many of the websites are blocked by the government. It enables them to unblock websites that have been restricted either by the government or are geo-restricted and can't be accessed from their country. It is an excellent VPN app but you should download its pro version which is available for all countries.
---
Add a review
Tell us your experience with
Psiphon
249
RELATED PROGRAMS
Our Recommendations
---
---
---
---